Shipping and Delivery
Delivery Estimates
How do you calculate the delivery estimates?
We calculate the delivery estimates by adding the estimated shipping dates and adding the time it takes for a package to travel from our/merchants facilities to your destination address. This depends upon your delivery location and shipping option chosen by you.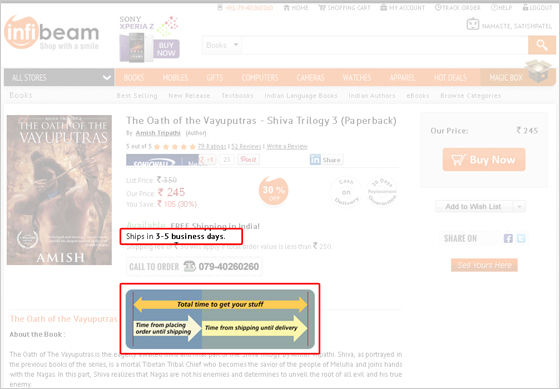 The shipping estimate listed on the product page is the time taken to obtain the items for shipment, which in turn determines the estimated delivery time.
Tracking Your Package
How do I track my package?
We provide shipping information with each of your orders consisting of a tracking number (AWB number) and name of our shipping partner. You may track your package using the tracking number on website of the shipping partner.

Do you have the contact details of your shipping partners?
Please find below the contact details of each of our shipping partners:
Carrier

Email id

Phone

Aramex

bomcustomerservice@aramex.com

079 33003300

AFL

customerservice@aflwiz.com

Bangalore : 080 - 42649696,
Chennai : 044 - 42009696,
Delhi : 011 - 43267700,
Kolkata : 033 - 24862626,
Mumbai :022 - 61314900

Anjani Courier

sacsho@ymail.com

044-28153780, 28133870, 28133871, 28133872

Blue Dart -

csdel@bluedart.com, csbom@bluedart.com, csmaa@bluedart.com, csblr@bluedart.com,
csccu@bluedart.com, cshyd@bluedart.com

Ahmedabad 079-66121234, 079-66111234

Deccan 360

customercaregroup@deccanexpress.in

30360360

DTDC

dtdcco@dtdc.com, css.co@dtdc.com, dtdcho@vsnl.com

080-25365032,25365039

Fedex

inmaster@fedex.com

18002096161

First Flight

ahdsfc@firstflight.net, boysfccsd@firstflight.net, deisfc@firstflight.net, doyshc@firstflight.net
Ahmedabad 079-39444444,
Delhi 1800-11-9888 (toll-free line),
Mumbai 022 2615 6125,
Chennai 044 2829 2001

Gati

customerservice@gati.com

1800-180-4284,09860354284

India Post

spc.delhi@indiapost.gov.in, spc.mumbai@indiapost.gov.in,
spc.chennai@indiapost.gov.in, spc.kolkata@indiapost.gov.in
Kolkata 033 2212 0476 ,
Bangalore 080 2286 7302,
Hyderabad 040 2346 3922 ,
Ahmadabad 1800 233 7999 ,
Pune 020 2612 1570

On Dot

csdmgrdel@ondot.info

011 - 39813900,39813901-10,

Overnite Express

oel@overnite-mail.com

Ahmedabad – 079-25621895, 25621613,25622811
Delhi - 011-23510131/2/3
Mumbai - 022-26853100/1
Kolkata - 033-22878012/3/4
Bangalore - 080-22133271/2/3
Chennai – 044-24330101, 24330230, 24330370

Pafex

amdcs@pafex.com, bomcs@pafex.com, delcs@pafex.com

60604639

Professional

ho@tpcindia.com, ho@tpcglobe.in

22-275 77993

Quantium

customerservice.in@quantiumsolutions.com

22 61206900

TNT

nazia.shaikh@tnt.com

1800 425 9999, 011- 6000 9999

XPS

xcnp@tcixps.com,tcixps4@gmail.com

18001800977
Which courier company do you use for delivery?
We have tied up with a number of reputed courier partners. The courier service provider for your order is selected based on your location.
Shipping Restrictions
Do you have any shipping restrictions applied to our package?
Warranty issues, restrictions from manufacturer & non serviceable pin codes prevent us from shipping to all locations. We might not be able to ship to all locations in India and abroad due to the following reasons:
1. Warranty issues: Warranty on a number of products (esp. electronic products) is available only in certain geographies and locations. This might prevent us from shipping to locations outside of these geographies
2. Restrictions from manufacturers: Due to regulatory or other restrictions, manufacturers of certain products (books, etc.) are permitted to sell in certain geographies and not sell to locations outside. In such cases we are unable to sell and ship to such location
3. Non serviceable PIN codes: While we work hard to provide delivery across ALL PIN codes across India, there is a chance that we may have missed out on a few.
Unable to buy products from you at my pin code. But I use to buy previously at this PIN code.
We tie up with new couriers and logistics partners and make changes to those areas that do not match our service standards. As a result, we renew contracts with better courier providers and meanwhile few areas are temporarily affected. We regret for the inconvenience caused.
Combining & Splitting Orders
Is it possible to combine multiple items in an order?
When possible, we try to combine multiple orders into the same shipment. This helps us reduce the number of shipments we need to send to you.
How do we combine multiple orders?
We try to combine multiple orders into the same shipment if the orders meet the following criteria:
1. Multiple orders are placed through the same customer account
2. The orders are being shipped to the same address.
3. Items from each order are located at the same Infibeam fulfillment center.
4. The orders are shipping at around the same time.
Why do we split the orders?
We may split the following type of orders:
1. Orders having multiple items with different estimated delivery dates. Each of the shipments may have separate invoices sent.
2. Orders from different vendors or fulfillment centers of Infibeam
Non Receipt of Package Post Delivery Date
What should I do on non receipt of my order?
Orders fulfilled by Infibeam and shipped via one of our shipping partners will have tracking information available in Your Account. Please check this information if available and read through the following options:
1. If the tracking information indicates the package has been delivered, please check with your neighbors or family members. Packages are occasionally left with neighbours, or safely outside your house/office.
2. If the tracking information indicates the package is being returned to us, or if the address is incorrect, it may have been undeliverable.
3. If there is no tracking information, or you cannot locate the package and it is not being returned as undeliverable, please e-mail us at customerservice@infibeam.me or call us at +91-79-40260260.